Activate 1001bit Pro
You can try out the full version of 1001bit Pro for a duration of 30 days by installing it and apply for a trial license.
If you then decide that 1001bit Pro are suitable for your needs, you will need to purchase a user license to continue to use it.
If you've decided that you do not need to use 1001bit tools after the trial period, you are required to remove it from your computer.
Activation keys can be obtained/purchased through our authorized reseller's website, or
click here.
After purchasing/registering for a user license, you will receive an email with activation key from us within 24 hours.
Go to the pull down menu in Sketchup,
Plugins >> 1001bit Pro >> Activate 1001bit Pro. (This dialog will be automatically displayed the first time you run 1001bit Pro without any activation key)
Activation process
Step 1:
Start Sketchup after you've completed setting up 1001bit pro (item 1 to 3 above)
Special note for Sketchup 2013 (for Windows): Please run Sketchup 2013 as administrator when you perform activation.
Step 2:
If your version has not been activated before, you will see 2 dialog boxes appearing.
If you have received a confirmation email from us, you can proceed to activate your copy by clicking the link
'Click here to get activation key'.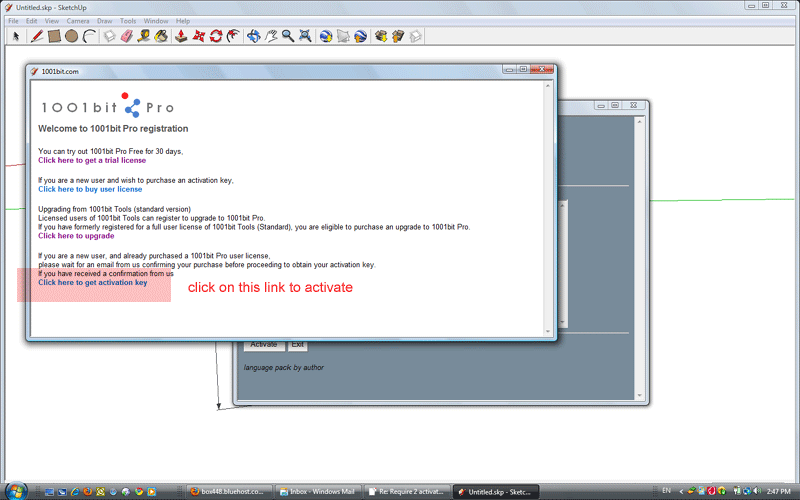 If you have been using a trial key, you can activate from menu : Plugins >> 1001bit Pro .>> Activate 1001bit Pro.
Step 3:
Copy and paste the
request code
from the 'blue' dialog box to the white dialog box, and enter other details. Please note that the email address has to be the one registered with us, i.e. the address you received the confirmation email.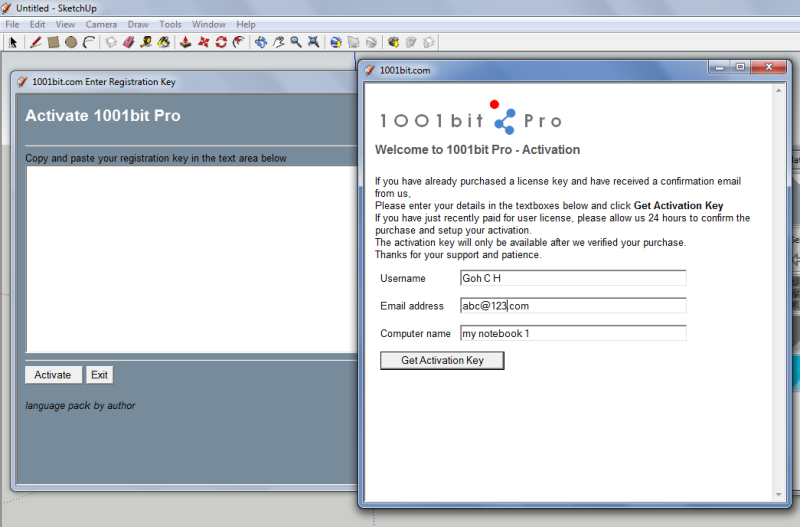 Step 4:
Click
'Get Activation key'
in the white dialog box. You will be given a set of keys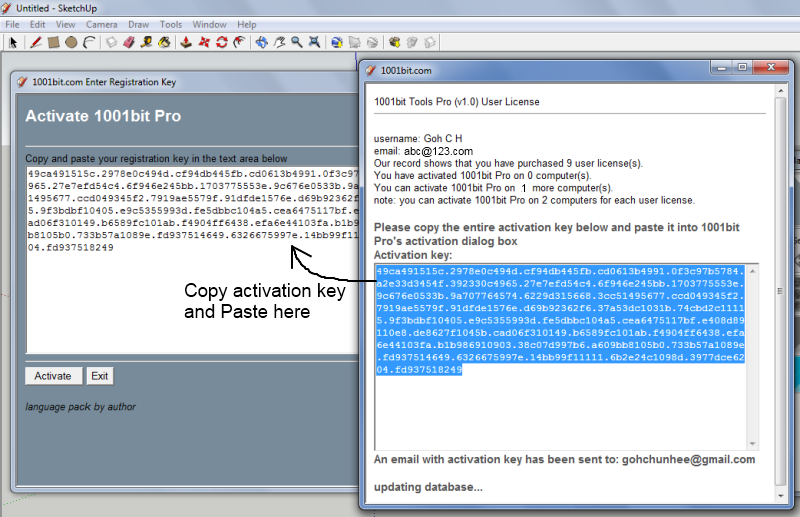 Step 5: Copy and paste the entire key
into the 'blue' dialog box and click 'Activate'.
Step 6:
Upon successful activation, you will get a confirmation. Please restart Sketchup.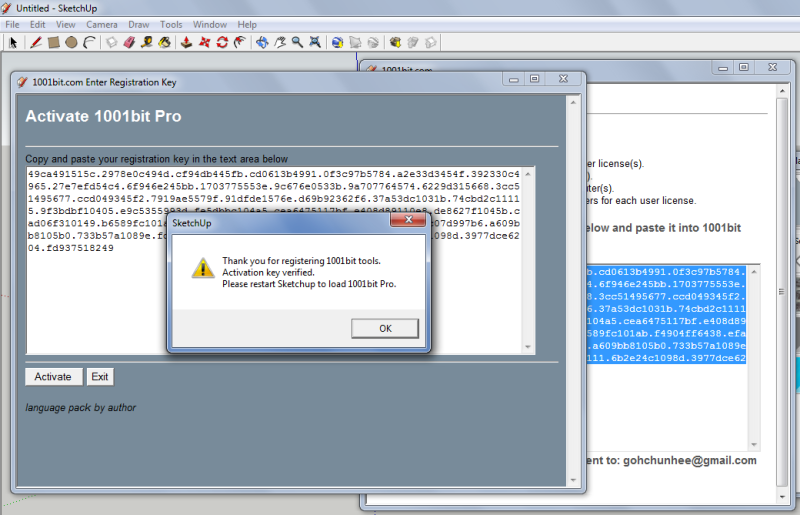 The activation key is unique to each computer
The activation key is unique to each computer (specifically, each computer's network adaptor). An activation key issued using a request code from a computer will not work for a different computer.
In the event that you are using 2 different network adaptors (for example, using a built-in LAN adaptor in office and using a USB modem while travelling), you will told that 'the activation key does not belong to this computer' the first time you switch to a different network card. All you have to do is to activate the tool again the first time you use the new network adaptor. After this activation, 1001bit Pro will work for both network adaptor.
In any case, if your activation key doesn't work, just send us an email at
help@1001bit.com